Overview

Event Schedule

Biathlon Range

Resources
Training Programs
The Wisconsin Biathlon Association provides programs for individuals of all ages and abilities, regardless of what your ambitions might be. For more information on any of the programs please contact us.
Masters Training Sessions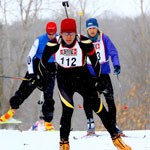 The Masters Training Sessions take place at the Saturday morning club practices. Come on out and join fellow club members for biathlon practice and training. Instruction by club coaches and experienced club members is available at most sessions. Biathlon safety certification is required in order to participate, please visit the membership page for more information.
Youth Instruction Group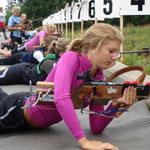 The Youth Instruction Group is for boys and girls ages 12-15 who are interested in learning more about biathlon. No previous experience is needed. Participants will learn the the basics of biathlon in a safe and fun environment. Weekly sessions take place Saturday mornings at the McMiller Biathlon Range from early December through the end of March.
Junior Training Group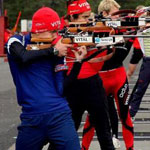 The Junior Training Group is intended for high school aged athletes with previous cross country skiing experience or those who are currently participating with a school team. Supplement your current training by learning some biathlon skills. Particpate in local and regional races while gaining experience in the fun and challenging sport of biathlon. Equipment is provided along with instruction by club coaches.
Junior Development Team
For the motivated young athlete with an interest in biathlon, the Junior Development Team is a training group that meets several times a week for practice sessions year-round. You will follow an annual training plan to help you reach your full potential. Summer session begins in May, download the flyer for details.